UConn MARS quick guide to getting data off BaseSpace
Yeah! the wet lab processing is done and you have data. You've gotten an email from basespace-noreply@illumina.com with a link to your project. Clicking that will take you to BaseSpace where you can log in, click on the project tab (folder icon on the top bar), then click "Samples" on the left side of the screen.
If you set up your BaseSpace account with a different email than you use with me, this invite won't work but I can issue a new invite to whatever address you'd like me to use. If you click the link, log in, and get a message that the link is no longer valid just let me know and I'll reissue the invite (occasional BaseSpace glitch).
To download your raw data (1 forward and 1 reverse fastq for each sample), select all the samples (if you have more than 25, you will need to select all on each page), then click the download icon.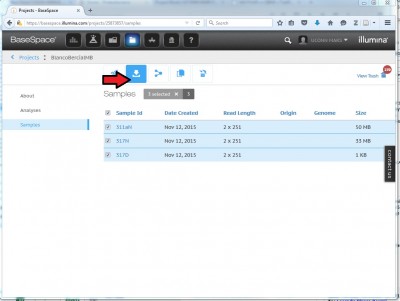 A download screen will pop up, if this is the first time you are downloading from BaseSpace you will need to Install the Downloader. Then click Download your files.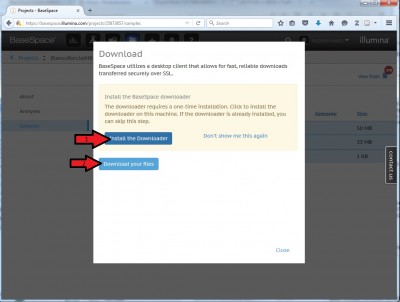 All of the files from one project will go into a folder, within that folder each sample will be in its own folder, and the actual data will be in Data/Intensities/BaseCalls/. We use the sample barcode to identify each sample so the fastq are named with that barcode, but I tell BaseSpace to use your sample name as the folder name. BaseSpace adds 8 numbers to the end of the project and sample folders that you can just ignore.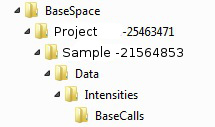 Feel free to email (mars@uconn.edu), call (860-486-1417), or stop by MARS if you have questions.

Happy Analyzing!!